O Dan y Dŵr - Hidden Seascapes of Wales
Holyhead Breakwater
The longest breakwater in the UK.
(zoom in for a closer look)
False colour projection of multibeam sonar data (where colours represent different depths), illustrating the depth and physical composition of the seabed surrounding Holyhead Breakwater located in northwest Anglesey.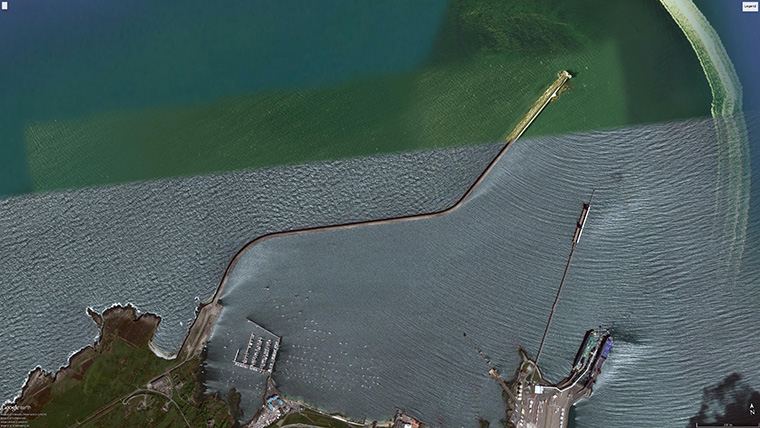 The "North-up" image illustrates how the 1.7 mile long breakwater structure extends out into the marine environment and protects the economically important port of Holyhead to the south. Holyhead breakwater took 28 years to construct and was opened in 1873 by Albert Edward, Prince of Wales, it is the longest breakwater in the UK. The breakwater is protected on the seaward (north) side by a large rubble mound created from more than seven million tonnes of locally quarried stone which is designed to absorb the energy from waves generated by gales from the north and northwest. There are also numerous very large 4m boulders positioned at the end of the breakwater beneath the lighthouse designed to protect this most vulnerable part of the structure from wave action and wakes generated from large vessels passing close by.

Average depths to the north of the breakwater are 5m greater than to the south, this is partly due to the natural slope of the seabed but also due to the fact that breakwaters and other similar man-made structures significantly increase rates of sediment deposition within areas they are designed to protect. In order to ensure these sediments do not eventually build up to an extent where they compromise navigation, harbour areas such as in Holyhead are frequently dredged and the material is then dumped offshore (before eventually returning via natural marine processes). The image clearly shows where such dredging activities have taken place towards the eastern inner region of the breakwater, as well as scour and drag marks in the seabed from various moorings and anchor chains located towards the inner western section.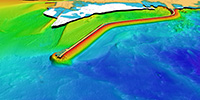 (view looking South with the harbour and town in the distance)

The image also illustrates the extent of bedrock on the outside of the breakwater towards the shoreline on the southwest side of the image. The rock outcrop gradually disappears beneath the seabed surface towards the northeast, where it is overlain by a relatively thin layer of sediments (>5m) consisting mainly of coarse sands and fine gravel.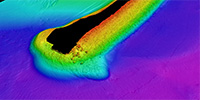 (closer view showing detail at the end of the structure)