O Dan y Dŵr - Hidden Seascapes of Wales
Careg Hen Sandwaves
"Old Rock" underwater reef off Trearddur Bay, Anglesey
(zoom in for a closer look)
False colour projection of multibeam sonar data (where colours represent different depths), illustrates the depth and physical composition of two square miles of seabed located three miles to the southwest of Trearddur Bay on Anglesey, close to a well-known, very shallow, rocky outcrop and popular dive site known locally as Careg Hen (Old Rock).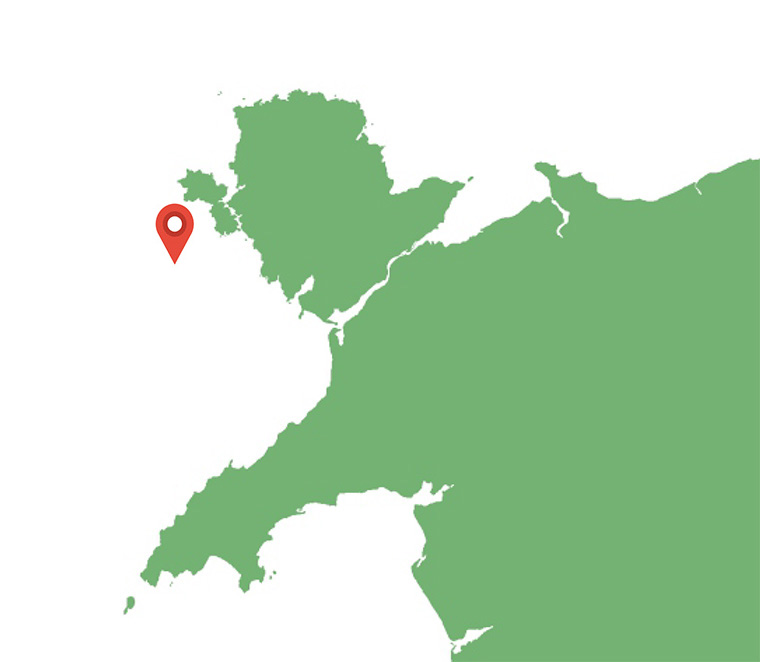 This oblique image looking towards the southeast illustrates a highly variable seabed comprising of rocky outcrops towards the top of the image and mobile sandy sediments dominating the deeper areas located further offshore. Smaller patches of mobile sediment can also be seen between the outcropping rock formations where they disrupt the predominantly linear southeast-northwest tidal flows. The largest sand waves towards the lower right of the image are aligned perpendicular to the tidal flow (in a southwest-northeast direction) and are asymmetric (the southwest face being steeper than the southeast) but this is not what is normally expected given the stronger northwest flowing flood tidal current. However the smaller sand waves closer to the outcropping rock demonstrate a conventional form, this implies there is a more complex pattern of water circulation at this location, possibly due to the presence of the headland at South Stack and its greater influence on the general flood-ebb tidal flow. Repeat multibeam surveys between 2014 and 2018 appear to confirm that the sediments are moving in a circular motion around Careg Hen and research is underway to better understand sediment transport patterns at this location and in the wider west Anglesey coastal region.

The seabed at this site is also characterised by a series of (up to 5m) near-circular depressions in the seabed adjacent to the rock outcrops. These are probably attributable to a disruption in the flow of water at this site and therefore an increase in turbulence near the seabed. Such features provide useful insights into how susceptible seabed sediments at these locations are to erosional effects and exactly how far the turbulence field extends around each outcrop.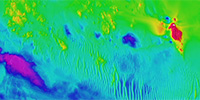 (another view, with the depths profiled)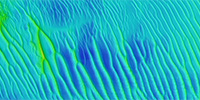 (Sand waves on the seabed)