O Dan y Dŵr - Hidden Seascapes of Wales
The Swellies
Stretch of water between the two Menai Bridges notable for strong and treacherous currents.
(zoom in for a closer look)
False colour projection of multibeam sonar data (where colours represent different depths), of the Menai Strait between Plas Newydd and Cadnant Bridge, over a distance of approximately three miles.



This image illustrates an area known locally as the Swellies and shows how the main channel of the strait narrows significantly between Britannia and Menai Bridge and shows clearly how this area is characterised by rocky outcrops and small islands such as (left-right); Britannia Rock, Cribbin Rock, Ynys Gored Goch and Swelly Rock. This area is extremely shallow (>5m) at low water and due to the influence of these outcrops, the strong tidal flows during the flood and ebb tide (>2m/s) results in a significant degree of turbulence which manifests itself in the form of overfalls and eddies or whirlpools. As a result of these strong and turbulent flows the seabed in the Swellies largely comprises of bare rock, whilst the water flowing through it carries significant volumes of suspended sediment.

To the east and west of the Swellies the Menai Strait widens and is characterised by scour and accumulations of coarser sediment such as sand and gravel. The 15m deep hole to the west of Britannia Bridge near Pwllfanogl has been cut into the underlying bedrock and is probably an ancient feature resulting from meltwater flows following successive (>50) glacial episodes over the last two million years.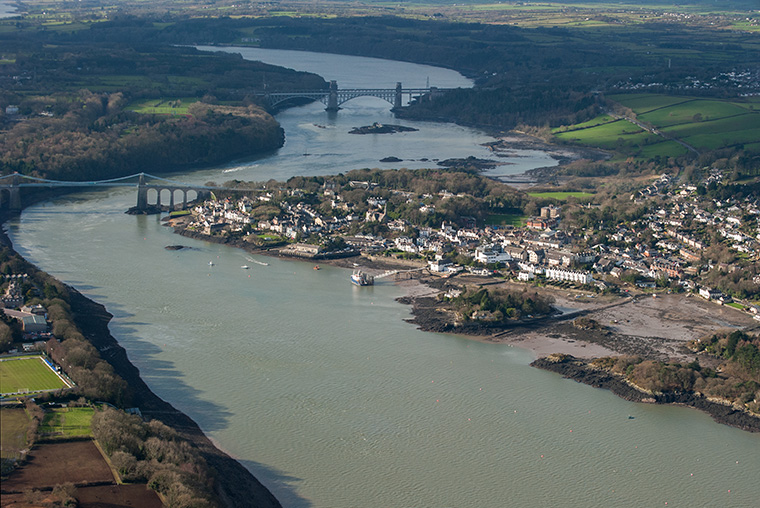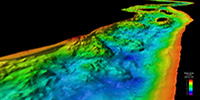 (close up view looking East)

The Menai Strait exists because it is situated along an ancient geological fault line which has been preferentially eroded by ice, water and wind for many millions of years and this has resulted in its surface being lower relative to adjacent land to the north and south. Following the end of the last ice-age (>20,000 years ago) sea levels around the world were 130m lower than at present and the whole of the North Wales region was glaciated. As the major ice sheets began to retreat north, melting ice caused sea levels to rise and the then dry and low-lying Menai Strait gradually flooded from either end until at some point between 7,800-4,800 years ago, the central area between the Britannia and Menai Bridges flooded permanently and Anglesey became an island. The Swellies are now a haven for marine life, being almost entirely covered in sponges and anemones.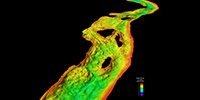 (general view looking East)