O Dan y Dŵr - Hidden Seascapes of Wales
SS Derbent
struck by a torpedo in 1917
(zoom in for a closer look)
This false colour projection of multibeam sonar data (where colours represent different depths below the surface) covers an area of seabed extending 500m x 250m, approximately 15 miles northwest of the Great Orme.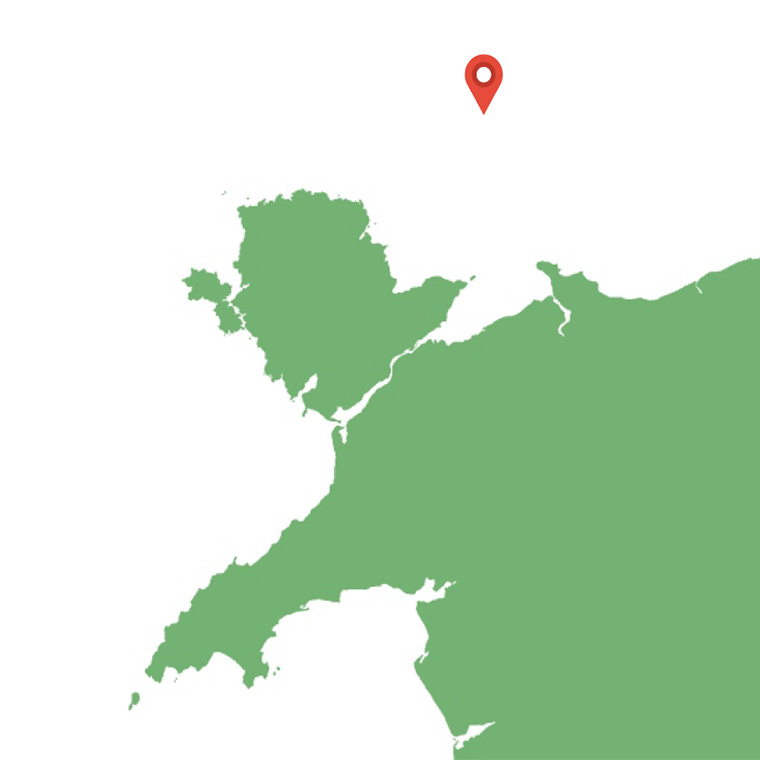 This "North-up" image contains the wreck of the SS Derbent which was a 3178 tonne, 95m long tanker built in Newcastle-upon-Tyne and launched in 1907. This British Admiralty owned vessel was delivering nearly 4000 tonnes of fuel oil from Liverpool to Queenstown, Cork when on the night of November 30th 1917, she was struck by a single torpedo fired by the German submarine U-96. Abandoned without loss of life but with no power the vessel remained afloat for two days before finally sinking at this location.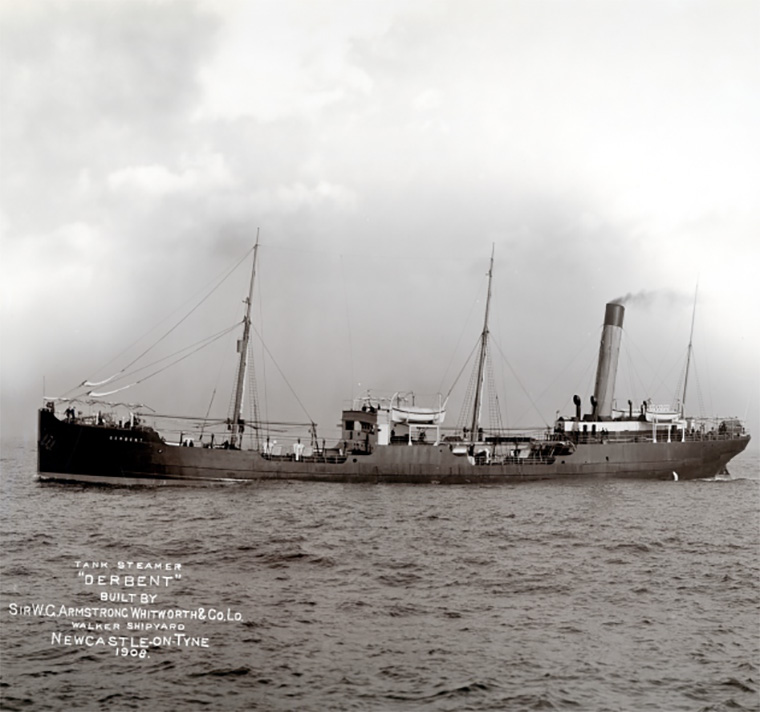 This well-known, largely intact local wreck lies at a depth of 35-40m and is lying on her starboard side with her bows facing towards the northwest. The surrounding seabed is characterised by small-scale (less than 0.5m high) asymmetric sand waves of coarse shelly sand and very fine gravel. These sedimentary features are orientated perpendicular to the flow of the tide and slowly migrate to the southeast by a few metres per year. Sand waves are similar to sand ripples (which are common on beaches) but they are larger due to the fast tidal currents. The reason for their asymmetry (the southeast face being steeper than the northwest face) is that the tidal currents are faster on the flood tide (here moving towards the southeast) than on the ebb tide (moving towards the northwest) and more sediment is moved to the southeast.

The U-96 was commanded by Kapitänleutnant Heinrich Jess, who two days previously, had also sunk the SS Apapa near Cemaes Bay on Anglesey with very heavy loss of life and the SS Derbent was the last victim of this particular U-boat patrol. In total the U-96 was responsible for sinking 31 vessels between June 1917 and August 1918 (a total of 95,000 tonnes) and although not the same vessel, U-96 was also the namesake of the U-boat featured in Lothar- Günther Buchheim's book and film of the same name 'Das Boot'. The wreck site is now regularly explored by divers and images and video obtained from the site clearly demonstrate that the wreck structure itself is now a haven for marine life, being almost entirely covered by sponges and anemones.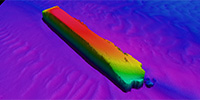 (Closer view)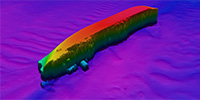 (View of the rear deck area)